Under 5 Timbits Program
---
---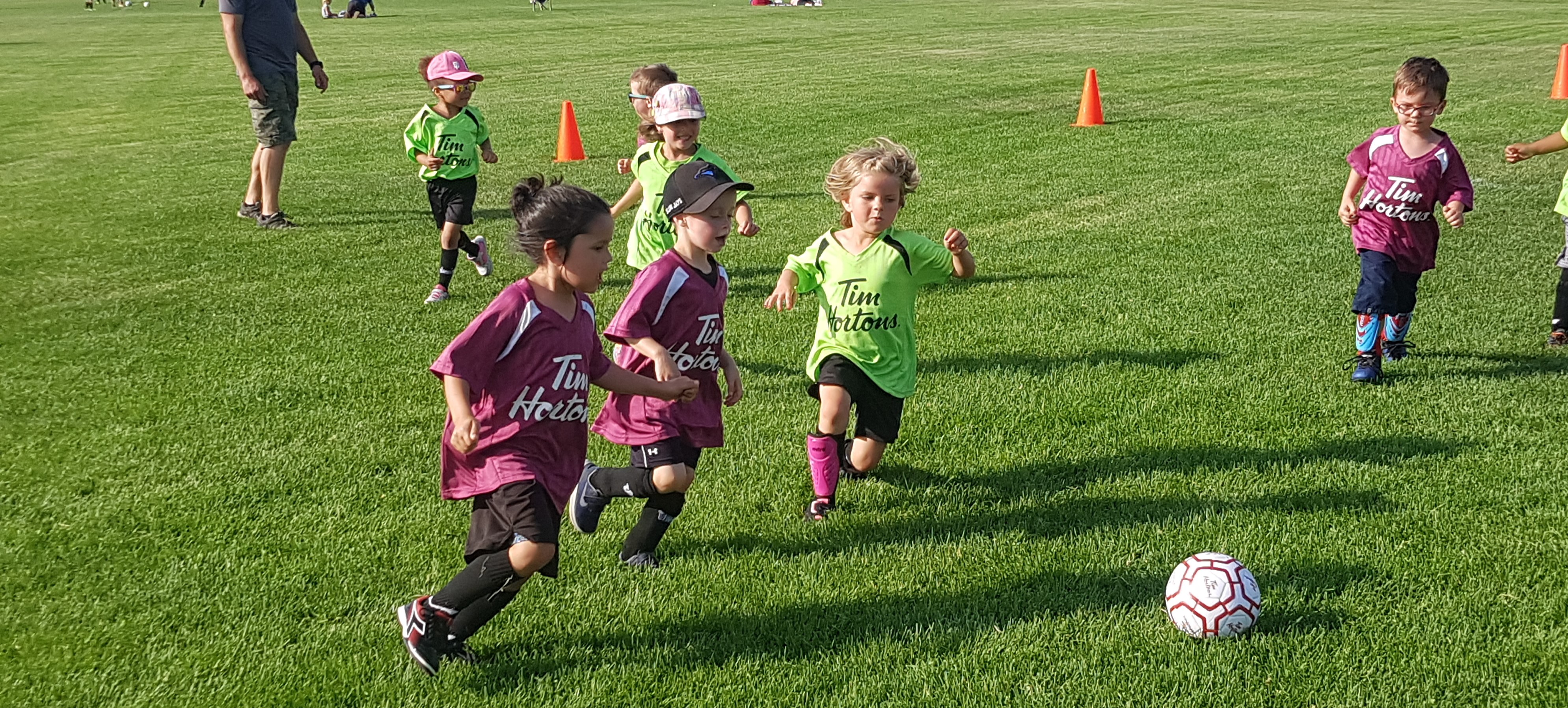 ---
The Under 5 Timbits Program is sponsored by the local Tim Horton's.
Sessions are 45 minutes long and are ONLY once a week. The volunteer parent coach would simply lead the group through fun activities for 45 minutes. Parents are expected to participate with their children on the field.
The Under 5 program focuses on Physical Literacy. Jumping, throwing, kicking, running and most of the activities have a ball. It is where we want to introduce the ball to the child. Parents are expected to PARTICIPATE in the activities with their child so the child feels safe and relaxed until the child feels comfortable by themselves, then parents can step back. We want the kids to feel safe and comfortable which is why we involve the parents, especially at the start of the session. Some activities will involve the parent and others not.
At the start of the season the Kids will receive a bag and waterbottle from BYSI and a timbits jersey from Tim Hortons. At the end of the season Tim Hortons gives the kids a ball and a medal.
We do ask that all players wear shin guards. These can be purchased at any number of local stores (Canadian Tire, Dollarama, Walmart, Sport-Chek, Co-Op Leisure Time, Dollar Store). Children this age can wear normal running shoes and do not need soccer cleats unless you want your child to wear them. Shorts or sweat pants are fine. Always bring their waterbottle full as we have many water breaks. There will be a portapotty on site.
The Under 5 program will be once a week only. It will run from 6:15pm-7:00pm. Location will be Holy Family Soccer Field (next to the white storage shed). Players will get jerseys, water bottle and bag on their first day.
The under 5 Program cannot run without Volunteer Parent Coaches. No experience necessary. A copy of the activities will be emailed out closer to April.
DURING THE ONLINE REGISTRATION PROCESS: Parents can choose what day they want their child to play on. Tuesday, Wednesday or Thursday. They only play ONCE a week. Those parents who do not select a day will be put in a group on any day and informed closer to mid-April.